General
Application profiles option allows creating separate application profiles. This means you can log into as Virola account admin and in a different tab log into as a Virola user. What can it be used for?
•to test conversations in Virola corporate messenger in two different user profiles;
•to log into Virola admin profile and separately to own user profile;
•use separate profiles if you work in different organizations which use Virola corporate messenger for their communication needs.
How it works
To open Application profiles you need to follow File / Application Profiles in the top menu
Application profiles
After this you will see the list of created app profiles or just a default profile if you have not created any: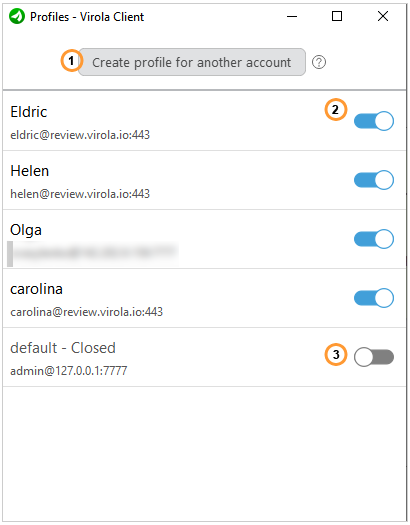 The list of application profiles
1."Create profile for another account" button is used to create a new profile
2.A profile is active. To deactivate the profile you need to move the slider left or right click on it and select 'close' option from the drop-down list
3.A profile is inactive. To activate the profile you need to drag the slider right or right click on it and select 'open' option from the drop-down list
All open profiles are displayed in separate tabs in Virola app. On each tab the number of unread messages is displayed. The system tray icon on Windows or badges on Mac OS and mobile apps show the total number of unread messages in all application profiles. A profile can be closed by right clicking on it or through the Application profiles menu. Closing profiles does not mean that all unread notifications related to that profile will disappear. You need either read them or remove the profile completely.
To create a profile for another Virola user account you need to do the following:
1.Click "Create profile for another account" button
2.On the appeared form enter the name of your profile and click 'Create Profile' button. With that name your profile will appear in the list of profiles: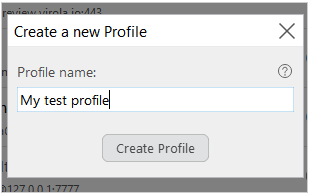 Profile name
3.A new profile will open in a separate tab in Virola messenger. Now you can log into it and use:
Login form for a new user profile
To remove a profile you need to do the following:
1.Right click on a profile you would like to remove
2.Select 'delete' option from the drop down list
Remove Virola user profile
3.Confirm profile removal