How it works
Discussions or threads feature is available in Virola messenger. Discussions can be initiated for certain messages. This is very convenient and helps to avoid mess in chats. To start a discussion you need to:
1.Right click on a message and select "Discussion" from the context menu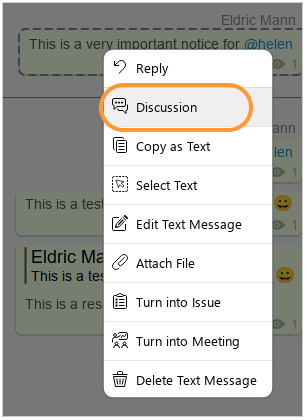 Start a discussion
2.Type and send messages
3.To return to a conversations list use "back" arrow


Back to chats
4.Below the message you can see the number of responses in a discussion and the number of unread messages


Discussion notifications
5.To open the discussion you need to click right bottom arrow below the message


Open the discussion
Discussions or threads help to group conversations and continue discussion of a certain message in a separate room. As a result there will be less mess in chats.