General
Text messaging is supported between all Virola users and in all group chat rooms. To send a message a user needs to do the following:
1.Open a chat room (private or group) by clicking on it in the list or create a new private or group chat conversation
2.In the text input area type a message (1)
3.Add an emoticon if necessary (4)
4.Choose message format (2)
5.Select message priority (3)
6.Attach a file if necessary (5)
7.Press "Enter" or click "Send" button (6)

Messaging process
Notifications count
Virola shows the number of unread messages in each chat room: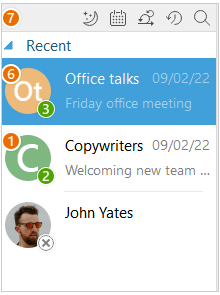 Notifications count
The total number of unread messages for all Virola profiles (even if they are not logged into) on the device is displayed in system tray icon on Windows and as badge on icons on Mac OS and iOS:

Messages format
The following formats are available for the messages sent in Virola client: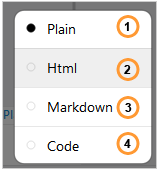 Message format
1.Plain text. The text without additional formatting is sent
2.HTML. HTML tags can be used to format the text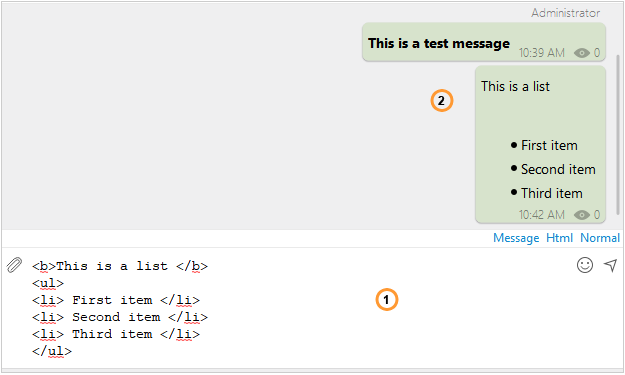 HTML formatting
1.HTML formatted text
2.An example of the HTML formatted text in the chat history area

3.Markdown. Markdown syntax is supported for the entered text
4.Code. If you need to send a code in an appropriate font, select this option so that the code was clearly displayed in the chat history area

Example of the message in "Code" format
Messages priority
For any message it is possible to set its priority before sending. Priority helps to display proper notifications for the messages and let the chat participants know if the message is urgent or not.

Message priority
Thee types of priority are available for the messages sent in Virola client:
•Normal
•High
•Urgent
Normal priority is enabled by default for all messages. To change the priority you need to click "Normal" link and select "High" or"Urgent" priority from the list.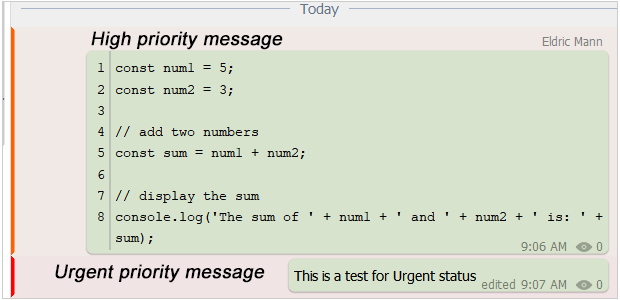 High and urgent priority example
Search
A search option for chat history is available. History has timeless storage period. No messages are removed. To find the needed information, you need to do the following: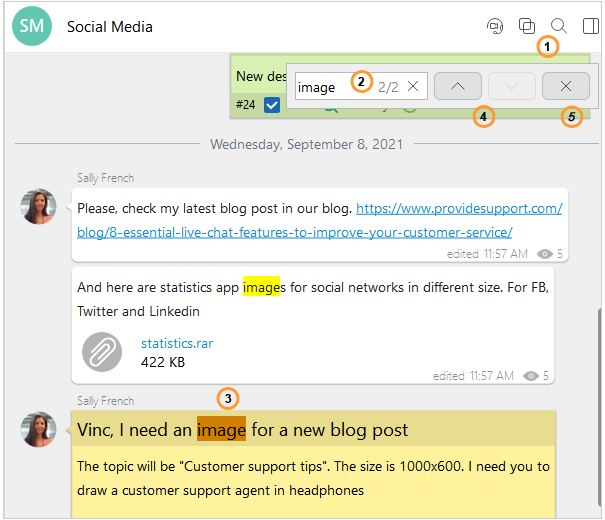 Search in chat history
1.Click "Search" icon in the top toolbar above the chat history area
2.Type the word or phrase you need to find
3.Check results highlighted in chat history
4.Use arrows to navigate
5.Use cross to close the search toolbar
Chat rooms order
Chat rooms are ordered in the following way:

Chat room status
1.Pinned - chat chat rooms which were pinned by Virola user
2.Recent - 10 most recent chat rooms are displayed there
3.Private - the list of private chat rooms
4.Meetings - the list of group chat rooms
5.Archived - the list of chat rooms archived by a user
To pin or archive the chat room you need to:
1.Right click on a chat room
2.Select pin or archive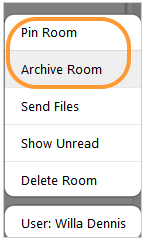 Archive or pin chat room