General
By default there is one admin profile which is created automatically when you register the Virola cloud or set up the server version. You use this profile to log into Virola client first time.
The admin rights include:
•Creating new users
•An ability to assign admin role to any Virola user
•Managing permissions
•Removing users
•Suspending user accounts
•Resuming suspended accounts
•Updating all user profiles
•Assigning moderator role for meeting rooms
•Assign tasks and issues
•Schedule meetings
To activate the admin role for a user you need to do the following: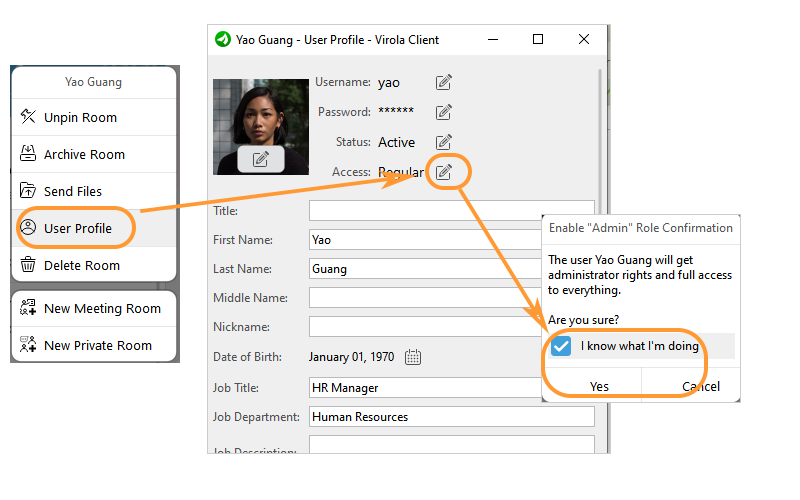 Assigning admin role to a user
1.Right click on a user in the users or chats list
2.Select "User Profile" option
3.Click "Edit" icon next to the "Access"
4.Confirm granting admin rights to a user
5.Click "Yes" to save changes
Managing permissions
In Virola client as administrator you can prevent regular users from creating private or group meeting rooms. To manage permissions, please do the following:
1.Follow Administrator / Manage Permissions menu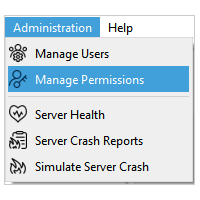 Managing user permissions menu
2.In the appeared window select the configuration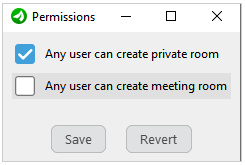 User permissions config
3.Save changes
Troubleshooting
The following options showed in the administrator toolbar are used for Virola debugging, issues troubleshooting and server load monitoring:
1.Server Health
2.Server Crash Reports
3.Simulate Server Crash